FlyFreely is participating in this trial, which allows ReOC holders to obtain instant authorisations at certain aerodromes.
Already signed up and been accepted into the trial? Click here to skip to the instructions for obtaining authorisations.
Introduction
FlyFreely customers operating under a Remote Operator's Certificate (ReOC) are invited to apply to be included in this trial program.
Currently, authorisations are available in the vicinity of the following controlled aerodromes:
Canberra (YSCB)
Adelaide (YPAD)
Perth (YPPH)
It's free to take part in the trial and authorisations will be issued free of charge.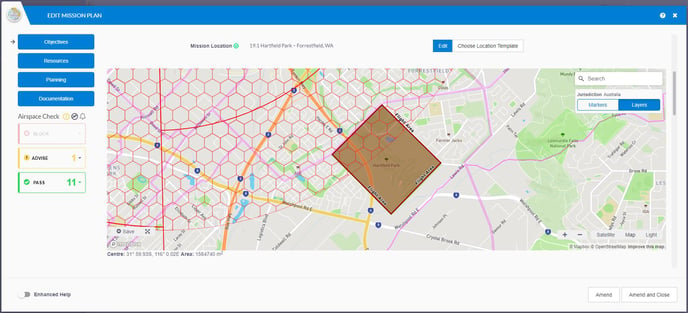 How to Apply to the Trial
Chief Remote Pilots can apply to participate in the trial by completing this form:
Airspace Authorisation Trial
To complete your application you'll need to provide the following information:
Full name (as it appears on your ReOC)
Email address (must match the email on your FlyFreely account)
Mobile number
ARN (Note: this is the CRP's personal ARN, not the organisation ARN)
ReOC number of organisation


All applications must relate to an existing FlyFreely account with the above documentation uploaded into the organisation so we can check it.

If you haven't yet created your account, please do so here.

Instructions on how to upload
Once you've completed this form, we'll double check it before forwarding it on to CASA for approval. We expect that the approval process may take up to 48hrs in total.
Once you've been approved, you'll receive an email confirmation from us, at which point you can start using the service immediately.
Operational Requirements
In order to make use of the automated authorisation system, your operation must meet the following criteria:
Take place within 3nm (5.5km) of one of the aerodromes listed above
Use a drone registered in the sub-25kg category
Day time only
Mission duration < 1 day
Authorisations are granted a maximum of 30 days in advance
Remote pilots must hold both a valid Remote Pilots License (RePL) and Aeronautical Radio Operators Certificate (AROC).
For further information, please see CASA's website.
How to Obtain an Authorisation
The automated authorisation functionality is built into the existing planning and approval screens in the FlyFreely Office App.
Remote Pilots can plan their mission as normal. That is, they simply draw where they intend to fly and complete all required fields as normal.
Please note CASA's automated authorisation only supports one (1) flight area per request. If your mission plan includes multiple flight areas you will need to split them into separate missions and submit requests for each.
Where automated authorisations are available a hexagonal grid will be visible on the map. The maximum height is listed in each hexagon to assist with planning. Once complete they submit the mission for approval by the Chief Remote Pilot.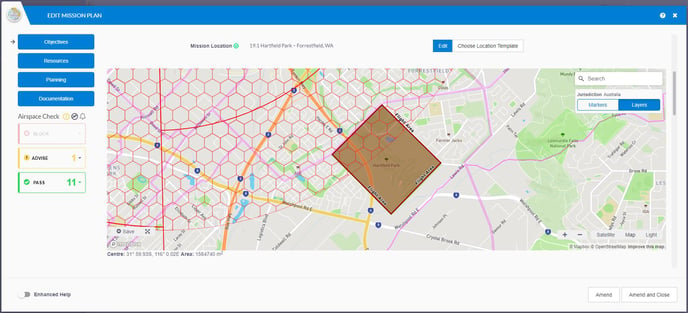 Submitting a mission for approval WILL NOT automatically authorise your flight. The authorisation process MUST be carried out by the Chief Remote Pilot as part of their approval process.
Once the plan has been submitted for approval to the Chief Remote Pilot a panel will appear in the approval screen named CASA Automated Authorisation.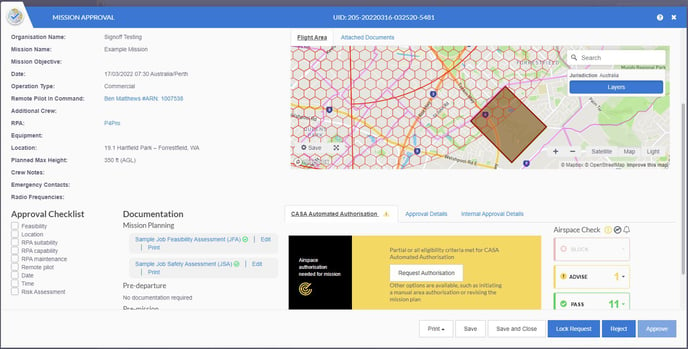 To initiate the process, click Request Authorisation in this panel.
Note: The Approve button will remain locked until authorisation has been granted.
FlyFreely then checks to ensure that the planned operation meets all relevant criteria. If there is an issue, it will be shown in red.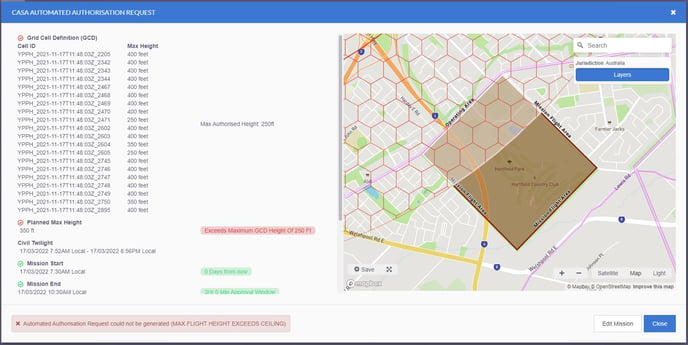 In this example, the mission cannot be authorised, as the planned height exceeds that permitted on the grid. The mission plan can be edited using the Edit Mission button in the lower-right. In this instance there are two options depending on your operational requirements:
Plan to use a lower height for this mission (under 250ft in this case)
Redraw the flight area to avoid the lowest grid ceiling/s - you can easily see the individual ceilings by zooming in the map.
In our example, once the maximum height has been changed in the mission, the authorisation criteria are all 'green' and the request can be sent to CASA by clicking Request CASA Airspace Authorisation.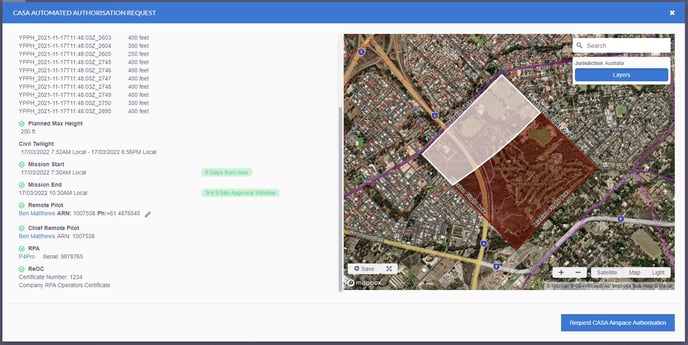 You will then be promoted to make several declarations before the request will be granted.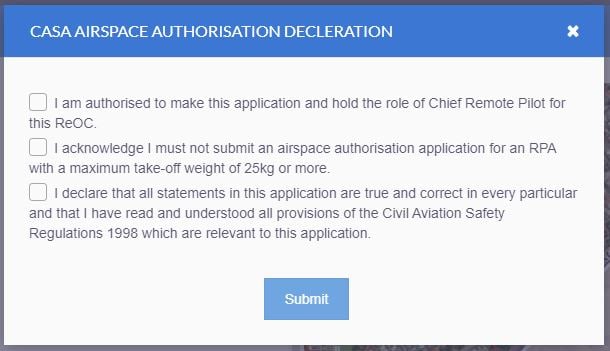 If successful you will be issued a unique identifier for the authorisation in the format AU-FLY-NNNNNNNNNN. This page also contains a link to the relevant instrument issued for operations taking place under the trial.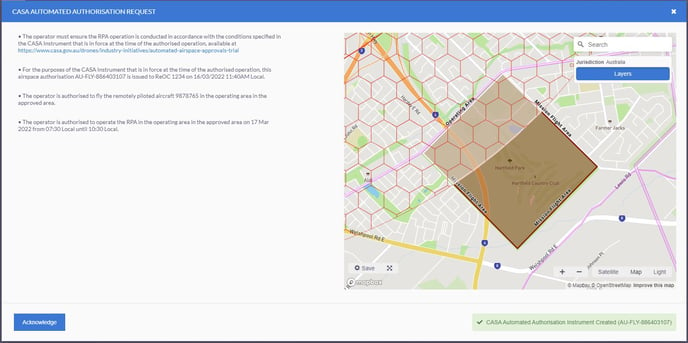 Once you've acknowledged this message, the authorisation process is complete and you can proceed with approving the mission as normal. The authorisation tab will display the details of your authorisation.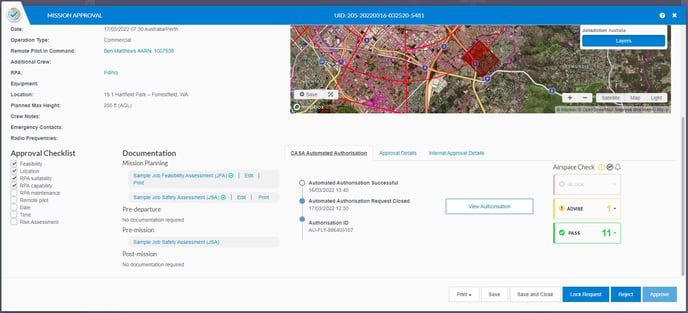 Frequently Asked Questions
Q: Is the automatic authorisation available on all FlyFreely plans?

A: Yes. It is available on Free, Lite, Business and Enterprise plans.
Q: Will the automatic authorisation functionality be availble for Excluded Category operations?
A: No. This functionality is only available for current ReOC holders, for missions being flown under their ReOC.
Q: Will other aerodromes be added in the future?

A: The trial is scheduled to end in May 2022 but it is likely to be extended and have additional aerodromes added. We have no information on when or which aerodromes are likely to be added.
Q: Does the Remote Pilot need to be the same same person as the Chief Remote Pilot?

A: No. However, the Chief Remote Pilot must ensure the Remote Pilot is competent to carry out operations in controlled airspace as per the organisation's Operations Manual.