Add aerodrome information and NOTAM messages directly into your mission plan.
This feature is available to users on Lite plans or higher.
In this article:
Nearby Aerodromes
This feature allows you to easily locate nearby aerodromes and add any relevant information to your mission plan.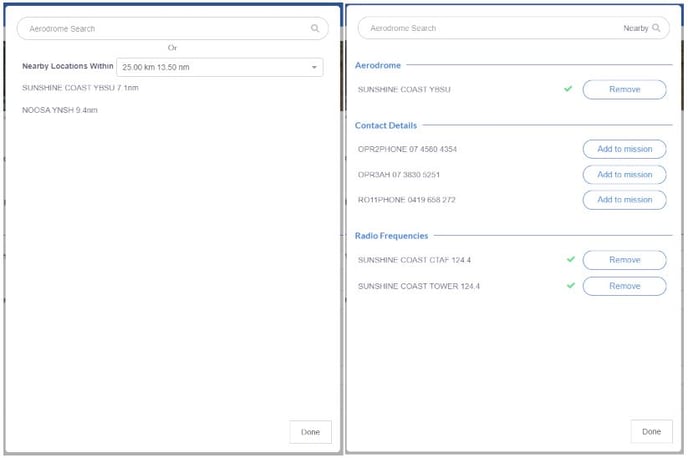 You can locate nearby aerodromes either by using the search box (aerodrome code or name), or by selecting a radius for nearby locations. The default radius is 10km / 5.4nm.
To add any of the fields to your mission plan, simply click Add to mission. Contacts and radio frequencies will appear near the bottom of the mission planning screen.
Adding the 'Aerodrome' information will add the address of the aerodrome, and also display the distance and bearing of your flight area from the aerodrome reference point. This is useful for submitting NOTAM requests, making radio broadcasts etc.
Adding this information also automatically adds the aerodrome to the NOTAM search as shown below.

---
NOTAM Checking
The Mission NOTAMs feature allows you to quickly view current NOTAMs and add relevant notices to your mission plan.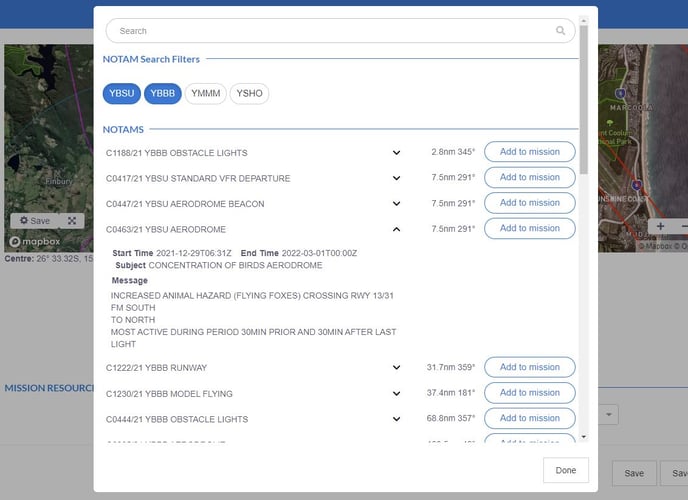 You can search for NOTAMs either via the search box or by selecting/deselecting the search filters. These filters include
YSHO - Head office NOTAMs
YBBB & YMMM - Brisbane and Melbourne FIRs
Any aerodromes added to the mission plan via the 'Nearby Aerodromes' feature outlined above.
NOTAMs are sorted according to their distance from your planned flight area. Note that the bearing shown for each item is from the NOTAM location to your flight area.
To add any relevant notices, simply click Add to mission. Copies of selected NOTAMs are stored in your mission record, even after the published NOTAM expires.