FlyFreely is the first platform to integrate with Airways New Zealand's UAV traffic management system.
Commercial drone operators in New Zealand can now request access to controlled airspace through the FlyFreely Office App. The platform works seamlessly with AirShare, using its public flight request and authorisation APIs to allow users to access controlled airspace with the click of a button.
This capability is available to all users that plan missions in New Zealand.
Requesting Authorisation
Requests are made via the Office App. When planning a mission in an area that requires an Airshare approval, the panel will appear on the left, indicating that an approval may be possible.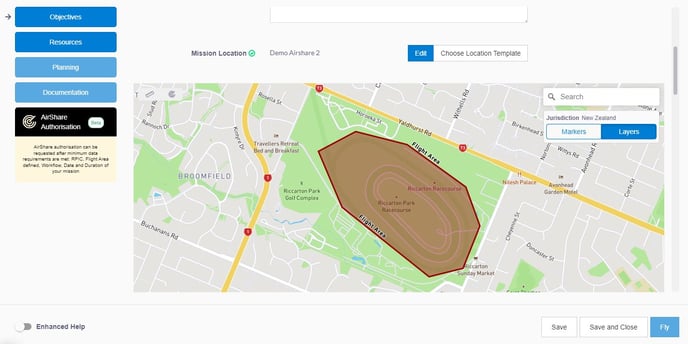 After creating your location, the following information must be completed to enable the authorisation:
Remote Pilot selected
Workflow selected
Date/Time & Duration of mission
You should enter these details into the mission planning screen as normal, and the Airshare panel will automatically update to show that authorisation is available when all criteria have been met.
Once authorisation is available, the request panel will be displayed at the bottom of the planning screen.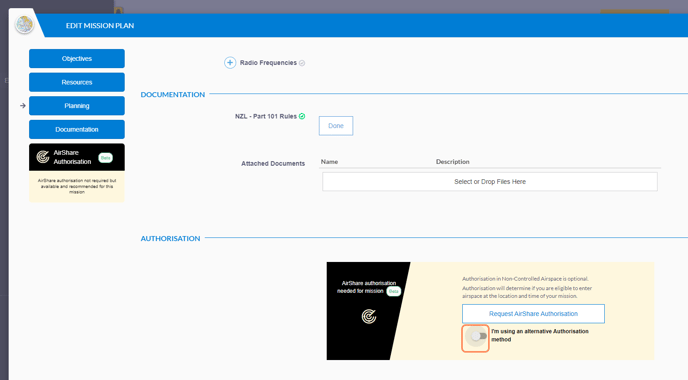 Using the highlited button, it's possible to bypass the Airshare authorisation in FlyFreely if you intend to use a different method of obtaining the authorisation.
In most cases however, you can simply click Request Airshare Authorisation to continue.

At this point you will be prompted for additional information to complete the authorisation.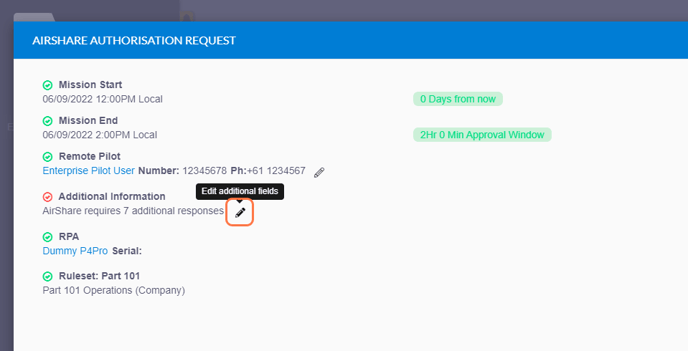 Clicking the pencil icon will pop out a new panel with the following fields:
Flight Purpose
Certified Transmitter?
VHF Radio?
Description of operating area
Emergency procedure
Procedure to measure altitude
Other information
Complete these fields and click Save. Then click Request AirShare Airspace Authorisation to submit the request.
Responses
There are two possible responses to your submission:
Authorisation Pending
A 'pending' response is most likely if your operation is planned with less than 48hrs time. Note that authorisation is not garanteed and you should not proceed with the flight/s until your request has been approved.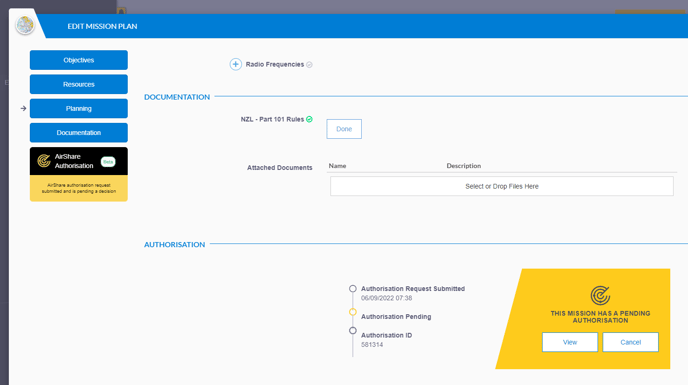 Authorisation Approved (Provisional)
Usually you will recieve a provisional authorisation immediately, as the mission parameters have already been checked by FlyFreely prior to submission.

Once this approval has been obtained, you're able to select the Fly button to send your mission to Ready to Fly status and sync it to the field app.
Note that provisional approvals still require ATC contact / approval in order to operate in their airspace. You should contact ATC 15 minutes prior to your flight/s and again within 1hr of completing your mission.