Adding users and assigning roles in FlyFreely
Before you can start planning missions in the FlyFreely app, you need to add personnel and assign them roles (eg Remote Pilot, Planner etc). For more information on the various user roles, click here.
In the FlyFreely platform, the term Personnel refers to any user of the software. This might include Remote Pilots, other crew (observers or assistants), administrators and anyone else in your organisation who needs access to the system.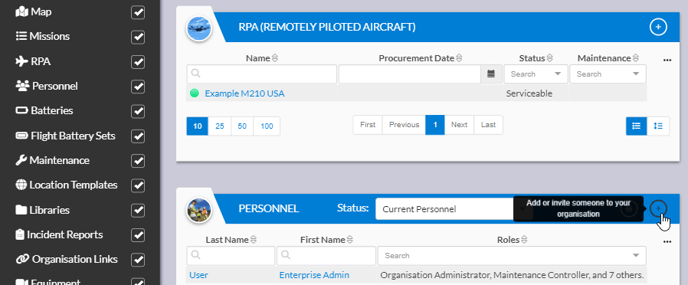 Inviting Personnel
Add personnel, including remote pilots, by clicking the Add button (⊕) on the Personnel widget. (Check the Personnel checkbox in the Left Nav Bar if you can't see the Personnel widget.)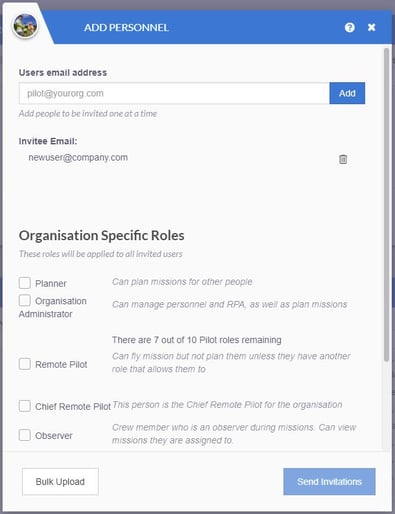 This screen allows you to invite new users to the organization. To invite a user, enter their email in the box and click add. This will add them to the 'invitee list'.
Next, select which roles you wish to apply to the user. For more information on the various user roles, click here. All users must have at least one role.
If you new user has the Remote Pilot role specified, they will now be available in the 'Remote Pilot in Command' and 'Crew' sections of the Mission Planning dialogue.
In order to apply the 'Remote Pilot' role to a user, you must have a software license available. Number of available licenses is displayed next to this role, as shown above. If you don't have any licenses remaining, the 'Remote Pilot' role will be unavailable until additional licenses are freed up (removed from other user/s) or additional license/s are purchased.
When user roles have been applied, click Send Invitations. This will send email invitations to all users in your 'invitee' list. Once each user has accepted the invitation and created a password, they will be added to your personnel list and can start using the software.
Bulk Upload Personnel
If you need to add a larger number of personnel at the same time (eg for new account set ups), you can bulk import these using a .CSV file.
From the 'Add personnel' screen, click the Bulk Upload button.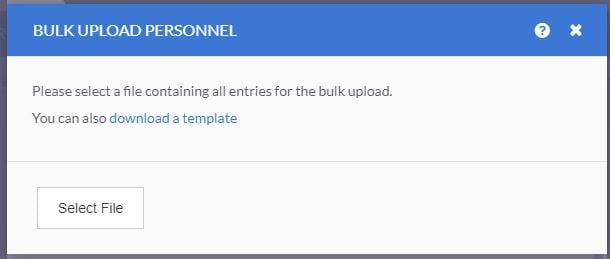 Select 'download a template'. A blank .CSV file will be downloaded. You can populate this file manually or by copy/pasting from another spreadsheet etc - as long as the columns remain the same.
Once you've finished updating the CSV, click Select File and browse to your CSV file. Select the file and click Open.
Check the details in the upload screen and select Import. All users in the list will be added to the platform and emails sent to the users.