To make the most of FlyFreely's advanced flight log functionality, manually install the app on your Android device.
Due to changes in Play store policy, we have had to remove some flight log functionality from the play store version of the field app. If you wish to retain the mission sync (direct log collection) feature, please install the field app manually, according the these instructions.
Supported Devices
The APK file can be installed on the following Android devices:
Most smart phones
Android based tablets
DJI Smart Controllers
DJI Crystal Sky
Download App
Download the .APK file (android installation file) on your device. Alternatively, you can download it to your PC and move it to your android device via USB connection or SD card (depending on the device).
Some devices might not allow the installation of 3rd party apps by default. In these cases, please consult your device's instructions for entering 'developer' or 'admin' mode.
Installation
Tap the file to begin the installation. You may see a message similar to that shown below. In this case, tapping 'settings' should take you to the 'install unknown apps' page. Toggle this setting to ON to continue.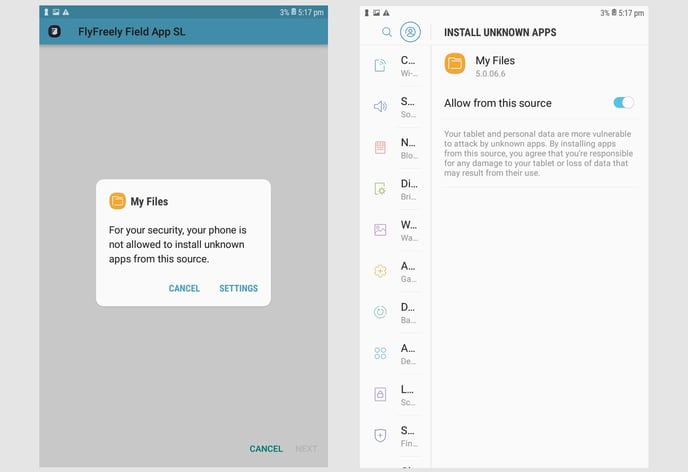 Running the App
To help differentiate the app versions, the sideloaded app has a grey icon, while the play store version is blue. It will also be called "FlyFreely Field App SL", for side loaded.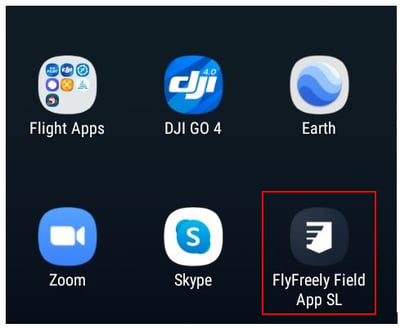 This version of the app is functionally identical to the one found on the play store, with the exception of the flight logging options.
If you have any problems running the app on your Android device, please contact support.